Get back to what's important: running your business
Managing employees, ordering inventory, working on your website…you have enough on your plate as is, so why not let us take care of your books so you can getback to running your business.  We provide customized, all-inclusive, flat fee bookkeeping services.  Here's what every package will include:
A monthly update to your books
Bank reconciliations
Numerous tax filings
GST returns
Income slips for owner/shareholder
Assigned bookkeeper to your file for support
Designated accountant available when required
Quickbooks online subscription
Photo-snap app for documents
Discounted corporate tax return and filing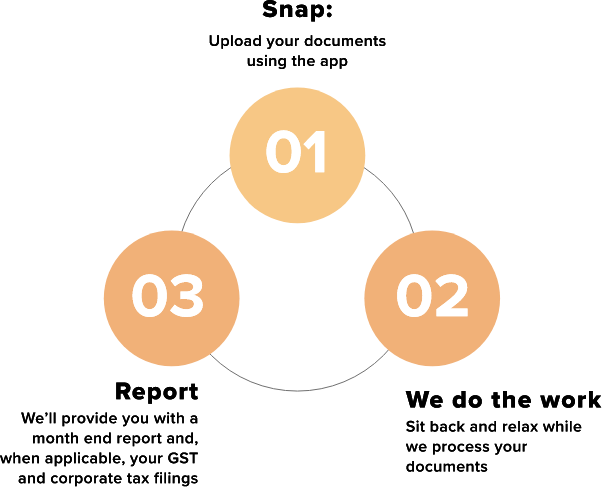 Upload your documents
using the app
Sit back and relax while
we process your
documents
We'll provide you with a
month end report and,
when applicable, your GST
and corporate tax filings
Our Most Popular Packages:
Get back to running your business today for as little as $300/month
You are still a small company but have established your business. Good work! But now you have too many receipts to manage on your own. We can help with that and keep you organized.
Our most popular package! You have grown to a point where you now have a small team and seeing more activity throughout your company. You now need an organized bookkeeping system that works with your day-to-day business.
Wow. Look at you go! You have grown your team and business even more and are experiencing a higher number of monthly transactions than ever before. Don't sweat. We can help you through this growth stage and are so excited to be a part of it.
Our first meeting is always complimentary, so why not bring your records in for an assessment and we can create a customized package to get you caught up in no time. It's what we do!
Just need some bookkeeping guidance?
Just need some bookkeeping guidance? Or do you require a sound bookkeeping system and process setup? We can certainly provide support for this. We've helped many client's clean up internal bookkeeping messes and got them back on track with a plan for success moving forward. Quickbooks Online is our specialty and we can even train you or your staff internally. We are certified Quickbooks Pro Advisors and have several years' experience working with this software. Our client's are amazed as to how we whiz around Quickbooks and we can't wait to show you too!